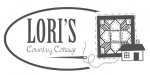 Lori's has an excellent ever changing collection of Block of the Month programs. On a budget? Just learning to quilt? Try out a block of the month program.

Why should you participate in a Block of the Month program at Lori's Country Cottage?
RELIABILITY. Lori's Country Cottage has offered BOMs for over 10 years. We have the experience and expertise needed to implement and maintain these programs.

FABRIC KEY. That's right! Don't fuss over fabric placement. We offer fabric keys online so that you know exactly where each piece of fabric goes...Read More
I

mportant things you should know:



Please ensure you have sufficient funds on your credit card. A $25 NSF fee will be charged for declined payments.

Also, please note - while we do accept Paypal for the Registration Fee, we will need a credit card on file for the duration of the program.
Upon sign up, we offer an insurance bundle for any oops that might occur on NEW programs! Bundles will include 1 Fat 1/8th (9"x21") or 1 Fat 1/4 (18" x 21") of each fabric used in your BOM program. Costs vary and are listed with each program. When you sign up, please indicate in the comments box if you would like us to include one with your program. Your bundle will be charged to your credit card with your first block.

FYI: Our full kit option is cut in the same manner as our monthly programs. You will receive your kit divided into individually packaged, monthly blocks with all the fabric and instructions you need to complete each block. These are smaller, easy to manage cuts – no need to fuss with large amounts of yardage, we have done the work for you! Your full kit includes all fabric and binding for your quilt top.
Note: We cut all kits in advance, this ensures your fabrics will be from the same shipment. When you sign up for our BOM programs, your program is assigned to you, with your name on it.
| | |
| --- | --- |
| Showing 1 - 38 of 38 results | |